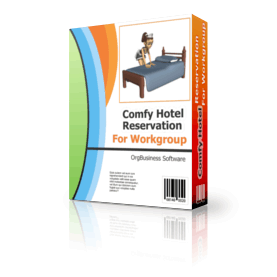 [Online]
This is a more powerful version of Comfy Hotel Reservation, with all of the features of the standard version, but with the additional capability to share data in real time over the Internet. Let us host your online program! No need to install anything. We will host our web program for you in the cloud for lifetime! You do not need any IT skills to start using our web software.
Comfy Hotel Reservation assists hotels, apartments, BandB accommodations, motels, guest-houses or holiday homes in managing and maintaining reservations. The system is fully scalable and designed to provide extensive flexibility and varied choices. Hotels and travel agents can achieve maximum time efficiency and best costs in processing reservations. This modern and extremely handy program makes management a real pleasure. The program enables users to switch between profiles to view the reservation of any room, it is also possible to view multiple rooms simultaneously or open the reservations of several rooms at the same time.
Comfy Hotel Reservation can maximize yield and minimize unsold room nights for hotels of any size and market orientation. Managing repeat customers and recording customer preferences helps you to retain your customers. All profiles data is protected with a password preventing unauthorized access. The program has the Auto Backup feature that allows saving the data to the secured archive. What is important, the data from Comfy Hotel Reservation can be imported from iCalendar. The program is designed to enable the communication between different scheduling applications. You can save appointments into an iCalendar file with the .ics extension. You may obtain a collection of days which are considered holidays for the specific country, and add these holidays to the scheduler.
If you purchase a product now, you're entitled for a Lifetime License. You pay for the program only the first time and get all new versions of this program for FREE and for lifetime!
After completion of payment, you will receive an email with your access details (user, password) and a link to your individual administration page and then you are in, for example:
Demo link: http://demo1.calendar4.com/
Admin Demo link: http://demo1.calendar4.com/AdminArea.aspx
Username: admin
Password: admin
System Requirements
To use Comfy Hotel Reservation For Workgroup, your computer must have one of the following operating systems:
– Windows, Mac OS X, Linux, iOS (iPad), Android (tablet).
FAQs
Will I be able to access the administration panel from anywhere?
Yes, you only need a computer (or tablet) with a working Internet connection – regardless where you are.
How to embed the online software into my website?
Copy the code below and put it in your web page where you want the calendar to appear:
<iframe src="http://demo1.calendar4.com/" width="100%" height="100%" seamless style="border: 0″ frameborder="0″ ></iframe>
How secure is my data?
The admin panel of your script can only be accessed with the valid log-in details. Only authorized by you people will be able to get to it. Since your script will be hosted with us, we will make regular backups of your information and will keep it safe from illicit third-party actions.