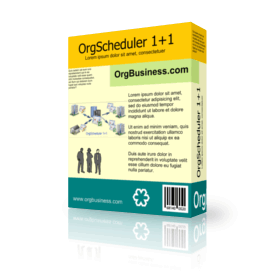 [Online]
This software does allow multiple users to update one calendar. Meaning the calendar belongs to everyone and everyone can read and write to it. OrgScheduler 1+1 gives you low cost network solution for sharing central planner simultaneously with everyone in your workgroup. You can even set network alarms to remind the whole office of an important event, like a meeting, in real-time. Access to the OrgScheduler is controlled by the user security profiles. This is why information is always safe with OrgScheduler, whether it is implemented on a local network or on the Internet.
The OrgScheduler 1+1 is built upon the interface options introduced in Microsoft Outlook. Exchanging data with other applications (Apple iCal, Microsoft Exchange Server, Android apps) is made easier with the new support for the iCal data format.
The program gives you a customizable Resource Navigator, new Date Navigator, control over the events overlapping and a mechanism for sharing events between an arbitrary number of different resources. It features different time display options in the day view, automatic hints that display an event's start and end time together with its caption, multiple look and feel styles, event recurrence control.
You can format the calendar according to your regional settings. It provides many types of views: Day, Week or Work Week, Month, Time Line views. You may obtain a collection of days which are considered holidays for the specific country, and add these holidays to the scheduler.
If you purchase a product now, you're entitled for a Lifetime License. You pay for the program only the first time and get all new versions of this program for FREE and for lifetime!

After completion of payment, you will receive an email with your access details (user, password) and a link to your individual administration page and then you are in, for example:
Demo link: http://demo11.calendar4.com/
Admin Demo link: http://demo11.calendar4.com/AdminArea.aspx
Username: admin
Password: admin
System Requirements
To use OrgScheduler 1+1, your computer must have one of the following operating systems:
– Windows, Mac OS X, Linux, iOS (iPad), Android (tablet).
FAQs
Will I be able to access the administration panel from anywhere?
Yes, you only need a computer (or tablet) with a working Internet connection – regardless where you are.
How to embed the online software into my website?
Copy the code below and put it in your web page where you want the calendar to appear:
<iframe src="http://demo11.calendar4.com/" width="100%" height="100%" seamless style="border: 0″ frameborder="0″ ></iframe>
How secure is my data?
The admin panel of your script can only be accessed with the valid log-in details. Only authorized by you people will be able to get to it. Since your script will be hosted with us, we will make regular backups of your information and will keep it safe from illicit third-party actions.