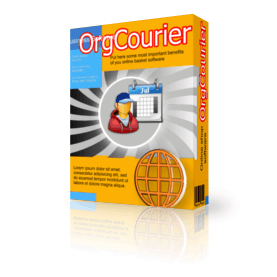 [Single Computer License]
This software is suitable for courier business. It's perfect for couriers to plan working hours so that the orders do not overlap with someone else and keep track of scheduled appointments. It'll store the information about clients, such as their address, telephone, email and comments.
This modern and extremely handy program makes management a real pleasure. Included are two viewing modes, an automatic search option and password protection.
The program has a handy interface to calculate and show the "fee charged", helping you to make decisions quickly. It's possible to create reminders to alert couriers about the things they should do. Available is an automatic search and auto-field filling for a customer, who has already been entered to the database. You can view the information about payments, daily income for any day at any moment when you need it. For those people, who work in Microsoft Outlook, it's possible to export data. Export of data is available to different formats: XLS, TXT, HTML, XML for its adaptation for other programs. You can save appointments into an iCalendar file with the .ics extension. It facilitates data transfer between applications that use scheduler and other applications, such as Apple iCal, Microsoft Exchange Server, Android apps. In case of crashes or virus attacks, there is an auto backup function with a possibility to remove old archives automatically.
If you purchase a product now, you're entitled for a Lifetime License. You pay for the program only the first time and get all new versions of this program for FREE and for lifetime!
After completion of payment, you will receive detailed information on the Product Activation in a separate e-mail, which will contain a attached universal key-file.

System Requirements
To use OrgCourier, your computer must have one of the following Windows operating systems:
– Windows ME, 2000, 2003, 2008, XP, Vista, 7 (32-bit & 64-bit), Windows 8 Pro 32/64-bit, Windows 10
Updates
If you are a registered user and if you want to update your version, please download files from this page. To implement current upgrade:
1. Back up your current database
2. Install the downloaded version
3. Restore your original database