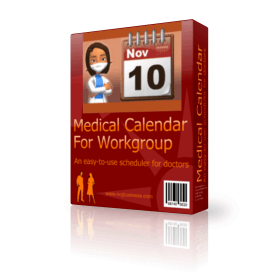 [Online]
This is a more powerful version of Medical Calendar, with all of the features of the standard version, but with the additional capability to share data in real time over the Internet. Let us host your online program! No need to install anything. We will host our web program for you in the cloud for lifetime! You do not need any IT skills to start using our web software.
This handy scheduling software will suit perfectly for a single physician as well as for a whole health center. It will help you to quickly create a competently organized schedule for the whole staff. If you want to have your reception hours at hand and don't want to miss any important job-related events, then Medical Calendar is just what the doctor ordered!
Medical Calendar is delivered in a classy interface both intuitive and stylish, making schedule management a piece a cake. Each doctor can create a profile to run his personal schedule. You can instantly switch between profiles to view the schedule of any specialist at any given moment. For your convenience Medical Calendar also allows viewing multiple profiles at a time, to view the  schedules of several or even all doctors simultaneously. At any time you can jump to the required date, edit reception hours, patient data, etc. You can change time intervals from a detailed day schedule to a brief quarter overview in order to provide yourself with the most fitting schedule. What's more, you can choose vertical or horizontal timelines and 12 or 24 hours format. All information stored in Medical Calendar can be secured with a password preventing from unauthorized access. To safeguard your data, you can also take advantage of the adjustable Auto Backup feature and save the data to the secured archive.
Additionally, the schedule can be exported to a variety of formats, exchanging data with other applications (Apple iCal, Microsoft Exchange Server and Android apps) is made easier with the new support for the iCal data format. Thus you can use your schedule in different applications. You may obtain a collection of days which are considered holidays for the specific country, and add these holidays to the scheduler.
If you purchase a product now, you're entitled for a Lifetime License. You pay for the program only the first time and get all new versions of this program for FREE and for lifetime!
By simplifying the appointment booking process, Calendar4 enhances customer experiences and encourages repeat business. The platform allows businesses to offer online scheduling options, reducing the need for time-consuming phone calls and manual appointment management:
https://calendar4.com  – Online Scheduler, Booking System and Business Page
System Requirements
To use online scheduler and booking system For Workgroup, your computer must have one of the following  operating systems:
– Windows, Mac OS X, Linux, iOS (iPhone, iPad), Android (smartphone, tablet).
FAQs
Will I be able to access the administration panel from anywhere?
Yes, you only need a computer (smartphone or tablet) with a working Internet connection – regardless where you are.
How secure is my data?
The admin panel of your script can only be accessed with the valid log-in details. Only authorized by you people will be able to get to it. Since your script will be hosted with us, we will make regular backups of your information and will keep it safe from illicit third-party actions.