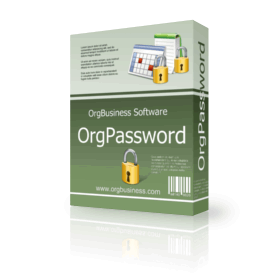 [Single Computer License]
OrgPassword is all that is required to keep your personal information in perfect order. It provides a number of categories, each purposed to keep a certain type of information so you can find exactly what you need in a blink of an eye. The utility is protected with a master password and shines with a brilliant interface that allows managing your data with ease. Using a set of competently organized templates, you can add information to 8 categories: Accounts, Software, Credit cards, Websites, Notes, Private Calendar, Email accounts and Newsgroup accounts.
Every category contains peculiar columns and allows sorting information to locate what you need right away. One master-password provides an easy access to all information stored within OrgPassword. You can rest assured that it will prevent anyone from unauthorized access. Intruders won't bypass this rock-solid protection as the password uses a reliable up-to-date encryption. At any time you can export the whole or only a certain part of the data stored in a selected category of OrgPassword into a variety of formats, including Excel, Text, Html and Xml. What's more, you can print any data you like at once without copy-and-paste operations. You can swiftly print what you want in the way you want.
You will certainly appreciate that the creators of the program have done their best in making auspicious working conditions. The interface is ornamented with smooth eye-catching icons and designed to provide the user with maximum comfort. OrgPassword is a perfect solution for keeping all valuable information in one place. It combines both a handy interface for quick data management and a reliable master password to lock your data safe. With this useful utility your personal data will be always secured and at hand.
If you purchase a product now, you're entitled for a Lifetime License. You pay for the program only the first time and get all new versions of this program for FREE and for lifetime!
After completion of payment, you will receive detailed information on the Product Activation in a separate e-mail, which will contain a attached universal key-file.

System Requirements
To use OrgPassword, your computer must have one of the following Windows operating systems:
– Windows ME, 2000, 2003, 2008, XP, Vista, Windows 7 (32-bit & 64-bit), Windows 8 Pro 32/64-bit, Windows 10
Updates
If you are a registered user and if you want to update your version, please download files from this page. To implement current upgrade:
1. Back up your current database
2. Install the downloaded version
3. Restore your original database